The Japanese Curry Craze
By Tomoko Omori – CEO Go!Go!Curry America
Japanese curry has been around for over 140 years, and people are still catching on to the curry craze. So let's get you up to speed. Curry introduced to Japan during the Meiji era (1868–1912) when India was under colonial rule by the British Empire. By the 1870s, the curry was being served in Japan and became a staple in the Japanese diet. Since its introduction, curry has been completely adapted to the tastes and spices of Japan, making it something entirely native to the East Asian island. It isn't hard to understand why people in Japan look for the comfort of curry at least once a week. The taste of curry, warm, and rich in flavor coming together with rice or udon to lull you into a happy food coma. Every region boasts its curry recipe with preferred pairings. Still, none are as unique as the curry rice recipe hailing from Ishikawa's capital city, Kanazawa.
The critical difference of Kanazawa curry is its caramelized color and flavor, giving it a delicious melt in the mouth effect that you don't find in other curries. Every recipe for this pot of pure indulgence suggests that in Kanazawa, the idea is to let the subtle notes of sweet ingredients catapult the savory and smoky flavors. Kanazawa curry is meticulously placed over every inch of Koshihikari rice. Then, it's generously topped with crispy yet juicy katsu and drizzled with sweet and smokey tonkatsu sauce. Adorned with perfectly sliced cabbage for a mild crunch factor, completes this classic serving of Katsu Curry. This plate of food that will make you miss your mom. When people recount having Kanazawa curry rice, they always end with,
"I swore to myself I would never eat that much again, and then I was craving it days later." It appears that the comforting nature of Japanese curry is what makes it so addictive and gives it foodie staying power.
If you want to learn more about great tasting curry, click here.
About the Author
==============================
Tomoko Omori, CEO of Go!Go!Curry was born and raised in Japan. She came to the USA alone to become an actress, where she received an AA degree from college majoring in Drama. She received a scholarship to study music at the American Musical and Dramatic Academy in NYC. When she was performing in an Off Broadway play, her residential apartment was burned in a fire and she lost everything.
Tomoko was then hired to work at a Japanese TV station that broadcast major league baseball. At the time, she had no idea about the rules, but learned from zero. After 4 years of traveling nationwide about 2/3 of the month, she met the perfect man in her life. However, he wanted her to stay at home, so she became a housewife for 3 months. Tomoko and her husband decided it would be best if she returned to work, so she obtained a position in advertising/sales at a local Japanese publishing company. 3 years later, she created a free magazine called Chopsticks NY to introduce Japanese food and the culture.
Now, Tomoko is working in her fourth carrier as a restaurateur. Her restaurant is called Go! Go! Curry, a grab-and-go Japanese comfort food restaurant. There are over 75 locations in Japan, and the first location in the USA was established near Times Square on 38th St. and 8th Ave. in 2007. At that time, Tomoko helped the company with their advertising in her magazine. Five years from their first establishment, in 2012, she was asked to be President and joined their company.
When Tomoko took over as President, the restaurant was not making any profit. With only $30,000 in the bank, no credit history, and no systems in place, their 5 employees were afraid the restaurant would close at any time. Tomoko used her personal credit card to build the second restaurant and leased the equipment needed. Within 4 years, she opened 5 more in NYC and one in Cambridge, MA, and is now supporting new franchisees to expand nationwide.
She says, "Our mission is to serve our tasty curry nationwide in USA and Canada to enrich people's food lives and make all our employees happier and richer lives both physically and spiritually. Our vision is to make many Go Go Curry locations where we make our customers smile when they eat our curry at where the people who work with smile and pride. I'm visioning all our employees' children are proud to say their parents work at Go Go Curry." Tomoko received the Nikkei BP Woman of the year award in 2015.
==========================

None of the communications on this website should be construed as an offer to sell a franchise. We will not offer any franchise for sale: (1) until your state has duly registered our franchise offering or duly exempted our franchise offering from registration, if your state requires registration or exemption; and (2) until we have duly delivered our franchise disclosure document to you in compliance with applicable law.
==========================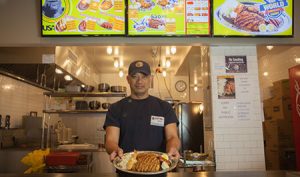 WELCOME TO Go! Go! CURRY USA Franchising. Since 2007 we have been serving our Japanese Curry to our hungry customers, and are proud to be at the forefront of the growing Japanese Curry craze. Over the last decade, Go Go Curry has established itself as the industry leader in this emerging culinary market which brings a unique style and flavor to the fast casual industry. Click Here For Franchise Information
OFFER BY PROSPECTUS ONLY