RIKO'S THIN CRUST PIZZA…Franchise opportunities abound in every business category, but entrepreneurs interested in the fast-casual space, and pizza, in particular, should have Riko's Pizza on their radar as a brand poised for growth and success with ground floor opportunities for franchisees.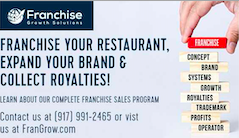 1. Pizza is a $50.7 billion dollar*1 American passion
The pizza industry was designated as the fastest-growing segment of fast-casual restaurants in 2017.*2 A Riko's franchisee buys into a growth business with high consumer demand and a track record of solid growth year-after-year. The opportunity to bring America's favorite comfort food to a franchisee's local market ranks high among Riko's attributes as a new franchisor in this extremely, profitable business category.
2. A proven business concept
The Riko's business model has been refined over a 7-year period prior to expanding into franchise offerings. Riko's founders have continually tried and revised products, systems, and operations as they evolved into a turnkey operation. Those hard-earned systems are passed to franchisees as easy-to-follow, foolproof guidelines for consistent results. The simplicity and ease of operations hold opportunity for owners with or without previous restaurant business experience.
3. Flexibility for Franchisees
Franchisees can choose from a flexible footprint that suits urban or suburban venues. The flexible business model is designed to work and succeed in any space. Riko's fast-casual operation features take-out, dine in and delivery. Riko's full-service casual restaurant features a family dining experience with a full bar and table service. Owners can purchase single units or multi-unit options that are commensurate with their experience and finances.
4. Multiple revenue streams
Diverse revenue streams including lunch, dinner, and late-night business with takeout, delivery, and fast casual dine in and full-service restaurant and bar options, gift cards and rewards programs offer multiple growth opportunities within a franchise.
5. Quality, quality, quality
Attention to details has made quality a hallmark of Riko's brand. High-quality ingredients — nothing artificial — proven recipes, simplified menu, first-rate equipment, comfortable, contemporary venue design, staff training ensure business growth and a consistent brand image. Entrepreneurs are buying into a brand associated with quality at every level.
6. Streamlined, state-of-the-art business operating model
Riko's has set standards and developed systems that are easy to follow and easy to replicate over and over. Pizza franchisees can produce consistent, great results. Both franchisees and their future customers are assured of the quality food and service that launched Riko 's original success in three Connecticut locations. Pizza franchisees are armed with the tools and knowledge to produce consistent, great results. Riko's is a turn-key business model that works across all processes. The goal: keep things simple and do them the best they can be done.
7. Traditional family values that resonate with consumers
Riko's core philosophy: respecting family, serving great simple food with a family-friendly ambiance, offers an appealing alternative in an ultra-fast food world. The Riko's guest experience is warm and casual, fast without being harried. It's a comforting experience that engenders customer loyalty and on-going, multi-generational business.
8. Comprehensive training & support
A good franchise offering includes support and training . That's why Riko's consulted and hired industry experts to develop a first-class training program. A five to six-week long training program — with modules at the company modern training center and owner's location — takes franchise owners through all phases of the business; covering all the components necessary to effectively and efficiently manage a Riko's Franchise business. A full suite of manuals provides on-going reference and instruction for owners.
9. Owners with passion
As a franchisor with a passion for growth and quality, Riko's future is guided by passionate, involved owners with a hands-on approach to day-to-day business as well as an eye on long-term growth strategies. The active 360º business outlook ensures Riko's is prepared to adapt, adjust, and seize new opportunities as they arise. The formula is set, but it's constantly fine-tuned for success.
10. Community-centric focus
The success of the Riko's original locations is grounded in community involvement. Riko's mission in all franchise venues is to be part of local family life. Franchisees are trained to be local in their location and engage in sponsoring local youth sports teams, supporting school events, donating pizza to community events and more as a means to building relationships and thanking customers for their loyalty.
For more information please visit: www.rikosfranchise.com