Burger Village Is Going International!
24 Sep, 2019
We've been waiting for the right time to announce this, but we just simply can't contain our excitement any longer. Burger Village is OFFICIALLY GOING INTERNATIONAL. That's right, our new Canadian location will be opening soon, and our northern neighbours seem to be just as excited as we are. Our food is organic, all-natural, and provided by local farmer families that give our customers the quality & great tasting food that they've come to expect. There is a lot for Canadians to be happy about. From the Toronto Raptors winning the NBA Championship, having a thriving national infrastructure, to having some of the most beautiful and natural landscapes in the world. Now we are proud to say you can add Burger Village to that list!
Why Is Organic Such A Great Choice To Make?
If not just for yourself, choosing to eat organic foods is also a great way to help protect our environment. Our farmer families treat their animals with love and dignity. Those farmer families then provide those animal products to our locations and give our customers some of the freshest tasting food they've ever had. Burger Village is slowly but surely continuing to grow our brand and provide our customers with more of the great food they've come to expect from us.
Our customers love our food because they know what they're eating is REALLY GOOD and made with REAL & CLEAN INGREDIENTS. Everything we make is:
Organic & All Natural
Antibiotics & Hormones Free
rBGH Free (Growth Hormone)
Pesticides Free
GMOs Free (Genetic Modification)
Sustainable Environmentally Friendly
Healthful & Nutritious
Herbicide Free
Preservatives Free
Gluten-Free
Peanut-Free
Humanely & Pasture Raised Livestock
Supports Our Local Farmers & Their Families
We take pride in the fact that every animal product we use is obtained in a natural & humane way. This ultimately results in our customers enjoying food that is much more delectable, nutritious, and ecological than most other restaurants. This practice also helps to promote & support our farmer families who are ultimately the backbone behind our success.
What Separates Us From The Rest? We Just Care More!
Our newest Burger Village location here in Canada will be an eco-friendly establishment. It will also be constructed using reclaimed wood and biodegradable materials. Did we also mention that our beer selection will come from LOCAL BREWERIES? We also pride ourselves on having gluten-free options and being a peanut-free establishment that is inclusive to all of our customers. Burger Village is a healthier alternative to most similar restaurants because we care more about our customers and the quality of the food that we sell those customers.
Burger Village is rapidly growing and constantly looking to spread the word about organic food and all of the benefits that come along with it. We're going to spread that message one customer and one burger at a time. Slowly but surely we are hoping to branch out to even more locations near you (including more in Canada after our new location officially opens). Are you as excited as we are? We sure hope so; and if you are excited, let us know on social media! You can follow us on Twitter @burgervillageny or on Facebook @burgervillageny.
Franchising Opportunities Are Still Available!
Burger Village has teamed with franchise industry expert, Gary Occhiogrosso, the founder of Franchise Growth Solutions, LLC, to expand the turnkey Burger Village fast casual QSR (quick service restaurant) business model from eleven (11) in 2019 to twenty-five (25) locations by 2022. Burger Village franchises are currently available in most territories nationwide.
Mr. Occhiogrosso has over 30 years' experience in franchise development and sales and was integral to the success of nationally recognized brands including Ranch *1, Desert Moon Fresh Mexican Grille, and brands found under the multi-brand franchisor, TRUFOODS, LLC.
For information on owning your own Burger Village franchise, please contact Gary Occhiogrosso at 917.991.2465 or via email at [email protected] or log on to our franchising opportunities website at: http://www.burgervillagefranchise.com
++++++++++++++++++++++++++++++
ABOUT BURGER VILLAGE
Burger Village is an all-natural, hormone-free burger concept that uses fresh and organic ingredients to create nutrition-rich meals for active consumers who want to eat well when dining out. From six locations in New York and five in California, Burger Village has grown into a recognized lifestyle brand that combines the growing trend toward clean and healthy dining with a socially responsible business model.
ABOUT FRANCHISE GROWTH SOLUTIONS, LLC
Franchise Growth Solutions, LLC is a strategic planning, franchise development and sales organization offering franchise sales, brand concept and development, strategic planning, real estate and architectural development, vendor management, lead generation, and advertising, marketing, and PR including social media. Franchise Growth Solutions' proven "Coach, Mentor & Grow®" system puts both franchisors and potential franchisees on the fast track to growth. Membership in Franchise Growth Solutions' client portfolio is by recommendation only.
For more information on the Burger Village fast-casual restaurant concept, please visit burgervillage.com.
For information on owning your own Burger Village franchise, please contact Gary Occhiogrosso at 917.991.2465 or via email at [email protected] or log on to our franchising opportunities website at: http://www.burgervillagefranchise.com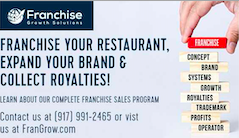 CLICK HERE TO LEARN HOW TO FRANCHISE YOUR BUSINESS